1.用于交联核酸或消除 PCR 污染
2.微处理器控制器允许可编程设置
3. 9 个预设的紫外线和时间曝光程序
4. 0.120 J/cm 2的核酸固定预设程序
5. 宽敞的不锈钢暴露室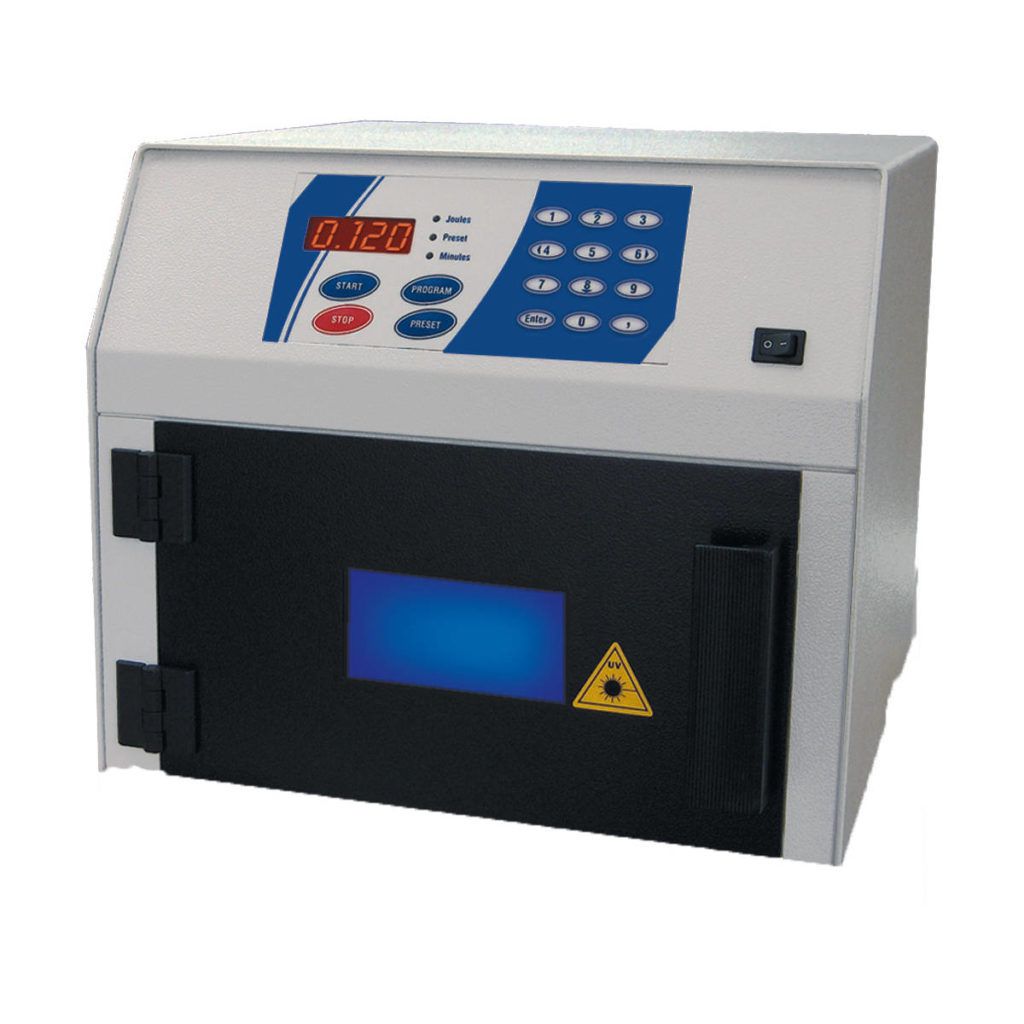 CL-508紫外交联仪是一个完整的、微处理器控制的紫外线照射系统,主要用于将核酸连接到膜和消除 PCR 污染。其创新设计确保了独特的功能:
微处理器控制:可编程微处理器持续监控紫外光发射。当接收到的能量与编程的能量相匹配时,照射会自动停止。
重复性好:得益于其紫外线传感器,无论紫外线源的强度波动如何,辐照周期都可以完美重现。只需对您的能量进行编程,CROSSLINKER ®就会提供它:
CL-508紫外交联仪结合了新技术和高品质组件:不锈钢 UV 曝光室、UV 传感器单元上的保护石英盘、高抗触膜键盘。
易于使用:读数显示和大量预设,以能量单位(焦耳/cm²)或时间单位(秒)为单位,使CL-508紫外交联仪成为一款非常简单易用且功能强大的仪器
一致的措施:紫外光强度被捕获在位于辐照室上方的光井中。然后从 UV 管中收集 UV 辐照测量值,而不仅仅是一个。这也可以保护 UV 传感器免受任何可能进入腔室的污垢的影响。
| | |
| --- | --- |
| 项目 | 技术数据 |
| 外形尺寸(高 x 深 x 宽) | 30.5 x 36 x 35 厘米 |
| 内腔尺寸(高 x 深 x 宽) | 14.5 x 33 x 26 厘米 |
| 重量 | 10公斤 |
| 紫外线波长 | 254nm (G)、312nm (M) 或 365nm (BL) |
| 紫外线灯管 | 5 x 8W |
| 编程选项 | 9 次预设紫外线能量曝光,9 次预设紫外线曝光时间,手动设置紫外线能量曝光,小 0.025 焦耳/大。99.99 焦耳,手动设置紫外线曝光时间,小 10 秒 / 大 599 分钟 |
| 能量显示 | 2 个选项,0.000 至 9.999 焦耳或 0.00 至 99.99 焦耳 |
| 时间显示 | 2 个选项,00.00 至 99.59 分钟或 000.0 至 599.5 分钟 |
CL-508紫外交联仪订货号:
365nm紫外交联仪,货号: CL-508BL
254nm紫外交联仪,货号: CL-508G
302nm 紫外交联仪,货号: CL-508M
UV Crosslinkers CL-508 英文介绍:
OVERVIEW
For crosslinking nucleic acids or eliminating PCR contamination
Microprocessor controller allows programmable settings
9 pre-set programmes for UV and time exposure
Pre-set programme for nucleic acid immobilisation at 0.120 J/cm2
Spacious stainless steel exposure chamber
SPECIFICATIONS
The CROSSLINKER (CL-508) is a complete, microprocessor controlled UV irradiation system, mainly dedicated to the linking of nucleic acid to membranes and elimination of PCR contamination. Its innovative design ensures unique features:
Microprocessor controlled. The programmable microprocessor constantly monitor the UV light emission. The irradiation stops automatically when the energy received matches the programmed energy.
Reproducibility. Thanks to its UV sensors, irradiation cycles are perfectly reproducible, regardless of intensity fluctuation of the UV source. Just programme your energy and CROSSLINKER® delivers it
CROSSLINKER combines the latest technology with a very high quality of components : UV exposure chamber in stainless steel, protective quartz disk on the UV sensor cell, highly resistant tactile membrane keypad..
Ease of use. The readout display and the large number of pre-sets, in either energy unit (Joules/cm²) or time unit (seconds) makes the CROSSLINKER a very simple instrument to use while very powerful
Consistent measure. The UV light intensity is captured in a well of light, positioned above the irradiation chamber. The UV cell measure is then collected from all the UV tubes and not just one. This also protect the UV cell from any dirt which can enter the chamber.
This unit has a 12 month limited warranty, for more information, consult our terms and conditions.
Product Includes: UV Crosslinker
VARIATIONS
| | |
| --- | --- |
| Parameter | Value |
| External Dimensions (H x D x W) | 30.5 x 36 x 35 cm |
| Internal Chamber Dimensions (H x D x W) | 14.5 x 33 x 26 cm |
| Weight | 10 Kg |
| UV Wavelength | 254nm (G), 312nm (M) or 365nm (BL_ |
| UV Source | 5 x 8W tube |
| Programming options | 9 pre-set UV Energy exposures, 9 pre-set UV exposure Time, manual setting of UV Energy exposure, Min.0.025 Joules / Max. 99.99 Joules, manual setting of UV exposure Time, Min.10 Seconds / Max.599 Minutes |
| Energy Display | 2 options, 0.000 to 9.999 Joules or 0.00 to 99.99 Joules |
| Time Display | 2 options, 00.00 to 99.59 minutes or 000.0 to 599.5 minutes |
The UVITec crosslinker is a convenient tool for delivering controlled amounts of ultraviolet irradiation. We have used the device successfully for crosslinking DNA and oligonucleotides to glass slides for microarrays as well as crosslinking nucleic acids to membranes for colony hybridization, Southern blotting and Northern blotting.
One of the main benefits of this unit is its size. It is a small, fully enclosed system that allows UV exposure to the nucleic acid and solid support without the need for a darkroom. Of course, the machine also accurately determines the energy applied using a photocell-based feedback mechanism. This is difficult or impossible using a standard UV transilluminator (the energy output from UV emission tubes decreases with age). The energy output can be controlled by setting the irradiation time (minutes) or energy output (joules). Strangely, some of the units measure in minutes and tenths of minutes, rather than minutes and seconds. The newer models measure in minutes and seconds.
The unit is available in three different wavelengths; 254 nm, 312 nm or 365 nm. The wavelength can be changed at any time by replacing the UV emission tubes inside the unit. We have found that replacement is relatively inexpensive and easy, as the instrument uses 5 x 8 W fluorescent type tubes.
The door of this unit has a safety interlock to prevent accidental UV exposure to the people operating the unit. The unit will continue the irradiation without losing its settings when the door is closed again. However, the safety interlock takes longer to deactivate the UV source than other units that we have tested (although the time of radiation leakage is short, only one or two seconds). The unit also has a viewing window which is transparent, but protected from UV light. This means that the solid support can be observed during irradiation, unlike many other brands of crosslinkers. We have found this feature useful for membranes that are likely to dry out or curl.
UVITec的紫外交联仪型号有:UVILink CL508G、CL508S、CL508M、CL508L